If you're looking for the home of Santa's Christmas Cottage in Sherwood, Oregon, you've found it! Annually Gardner Team Real Estate hosts Santa and his Elves, alongside tons of holiday fun during a season-long venue that spans several weeks. Offering FREE fun to the community, while supporting local needs in the community too!
How to follow along:
To keep everyone on the same page, we use a dedicated private Facebook group that filled to the brim with all the latest and greatest surrounding this event. From Santa appearances, securing a coveted spot for Pictures, how to get your hands on those Christmas Eve Baskets, the many giveaways, special days at Christmas Cottage, how to enter-to-win some of the MANY gift cards to locally owned businesses and more! We hope you'll join the event page so you can stay well connected with us throughout the season. We promise you won't want to miss an update!
If you don't have Facebook, here's the scoop:
Here's a little bit more information about Santa's Christmas Cottage. Keep in mind we make daily updates you won't want to miss on the Facebook page – however we can give you all the deets so you can find the fun! We welcome you to hop on by for a peek or contact us for more information. You'll find us at 16227 SW 1st Street in the heart of Old Town Sherwood. Amber Gardner, our Office and Marketing Director here at Gardner Team Real Estate is also happy to answer any questions, she can be reached at 971-832-1235.
Here's a sneak peek:
When you arrive you'll come up Candy Cane Lane, surrounded by so much Christmas magic!  At the top, be sure to peer in the peep-holes along the fence for a look at the changing Secret Garden! As you round the corner to the big French doors gaze into the Snow Globe windows for a scavenger hunt and see where Santa stays when he's in town… you may even find some extra Elf magic happening inside! Step on up to the Elf Name Generator to see what your Elf Name is for the day, put your name on a badge and you'll be ready to do some good-elf-deeds! Next up is Santa's Naughty-or-Nice meter, step on up and see where you currently rank on his list! Be sure to make those memories and take a family photo at Santa's Front Porch Photo Booth. The most anticipated will be among the next two stops, Santa's Toy Chute where your child will ring the bell connected to Santa's Toy Shop at the North Pole. When the Elves hear your ring, they'll send a stocking stuffer sized toy down the chute as a special gift. They can even see you on the Elf-cam so wave "Hi" to Santa! Don't forget about the BIG RED MAILBOX! You can mail your letter to Santa, and if you ADD a return address, he'll write you back too! Please keep in mind that the Toy Chute hours are during Gardner Team Real Estate office hours which are Monday through Friday from 8:30am to 5pm (special eventing/weekend announcements are made on the Facebook group). The Grand finale doubles as a fun photo opportunity at the famous Elf Portal, one of Santa's many secret doors found around the world used by his Elf on the Shelf helps to travel to and from the area. This one is located in the century old tree that once stood in the Sherwood Forest, now in sight! There's so much whimsy and wonder here, we hope you'll come more than once to see us!
Yes, it's FREE to participate!
As we celebrate the season at Santa's Christmas Cottage, this community event is FREE to the public, so come enjoy the front porch experience! It's true, we've made this FREE but also with a FUNdraising twist!
Here's how that works…
FUNdraising Twist:
Each year we identify a local need in the area. With the outbreak of COVID greatly affecting locally owned Restaurants, we took a deep dive in supporting local with a big gift card drawing. With the huge Gift Card drawing's popularity, we've decided to continue that effort through our Christmas Cottage event. Through the years we've helped locally owned restaurants during COVID, Sherwood Police Foundation who needed fundraising to support program needs, and more. ALL benefiting from 100% of proceeds going directly to their respective organization.
We fundraise during Easter primarily through the following ways…
Generous sponsorships from local businesses
Hosting professional pictures with Santa Claus
The Sale of the ever-popular Christmas Eve Baskets
Entries into the HUGE local Gift Card Drawing
Who – What – When – Where:
Every season our real estate office in the heart of Old Town Sherwood transforms into Santa's Christmas Cottage. As the stewards of the iconic white Victorian built in 1892, it's an honor to share this space with Santa and the community. Be sure to bring your camera as we hope you'll enjoy the whimsy wonder, capture joyful moments with friends and family and make memories that'll last a lifetime.
Christmas Cottage is on display the week after Thanksgiving through December. This is an out-door experience under the wrap around covered front porch. We hope you'll enjoy this special Christmas experiences created just for you! Please watch our facebook page for fun details + updates, or visit us directly to experience the fun!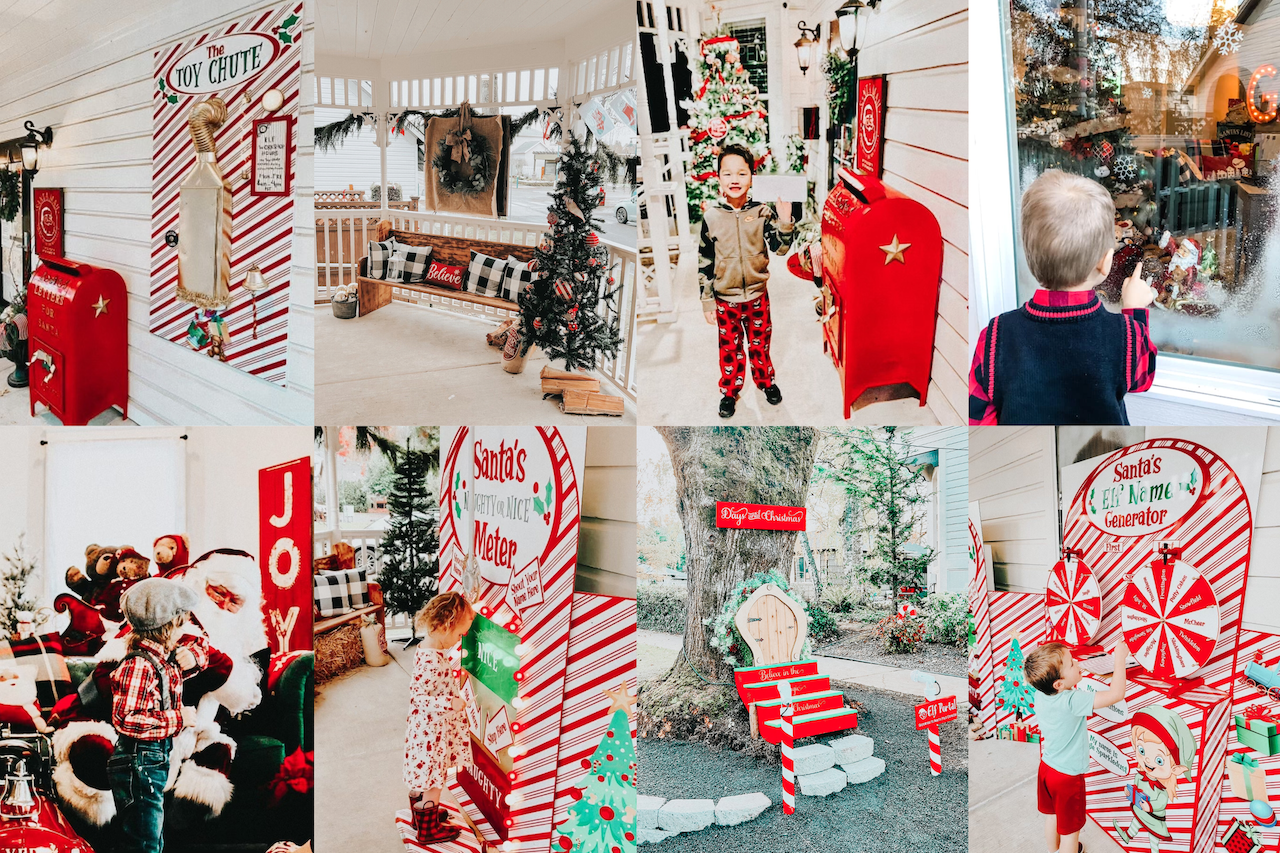 ​